Regular price
$475.28 USD
Regular price
$475.28 USD
$779.15 USD
Sale price
Unit price
per
Sale
Sold out
Are you a trade professional?
Share
View full details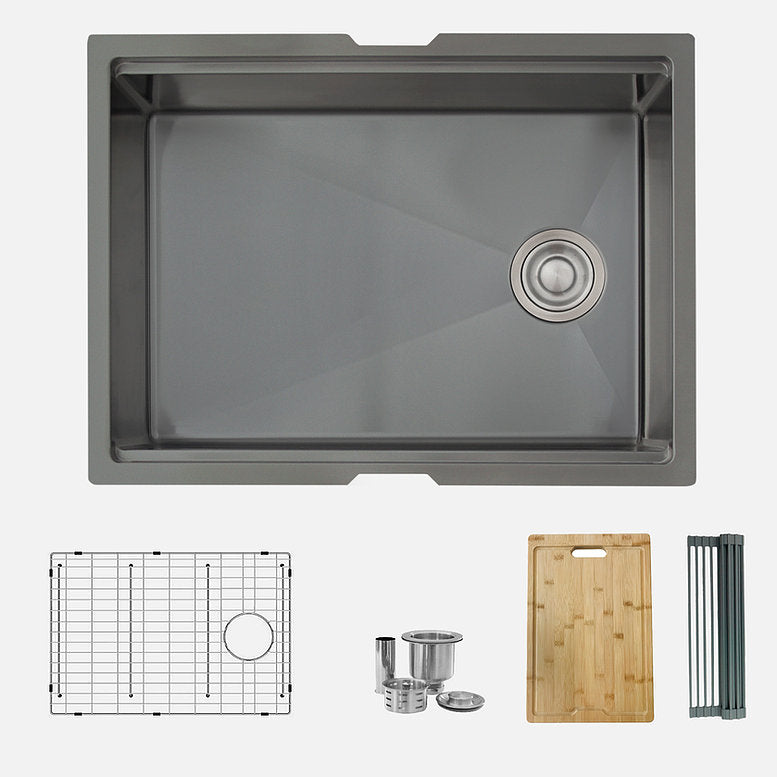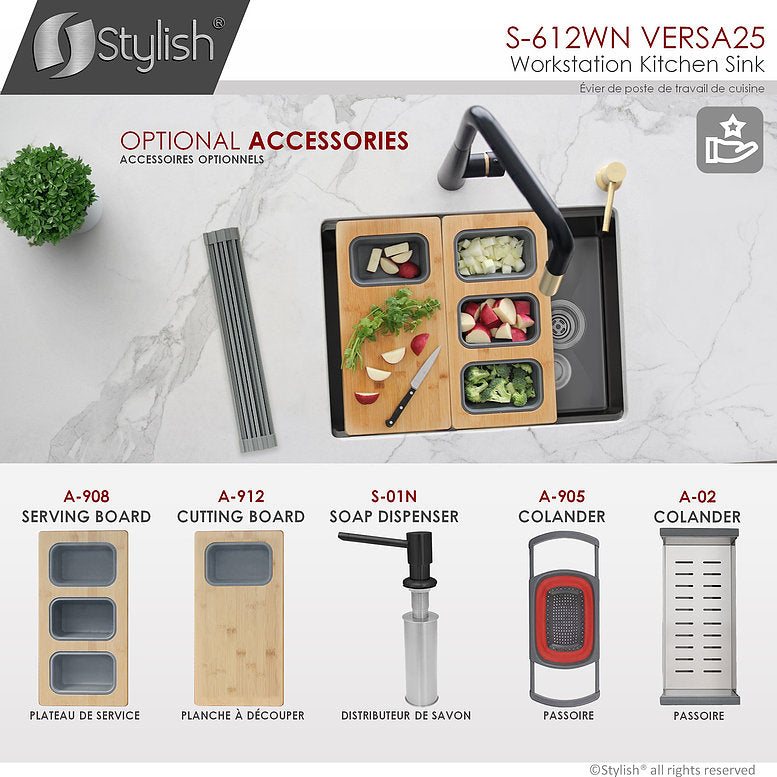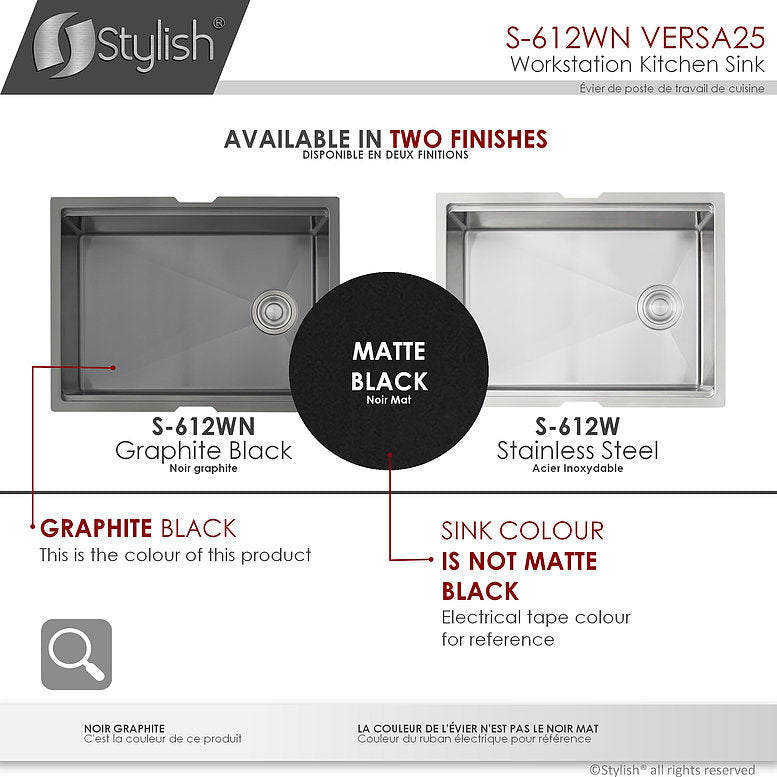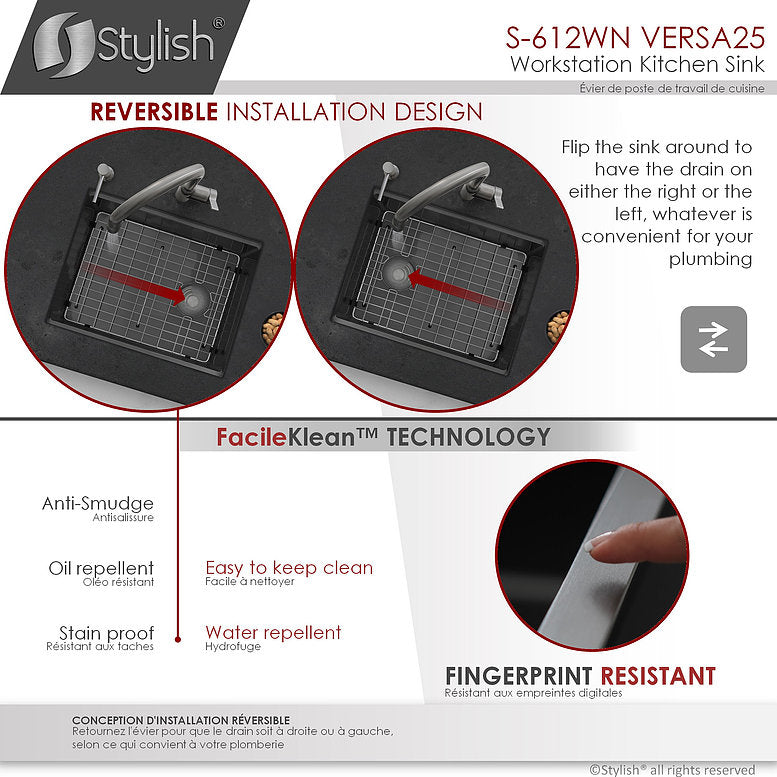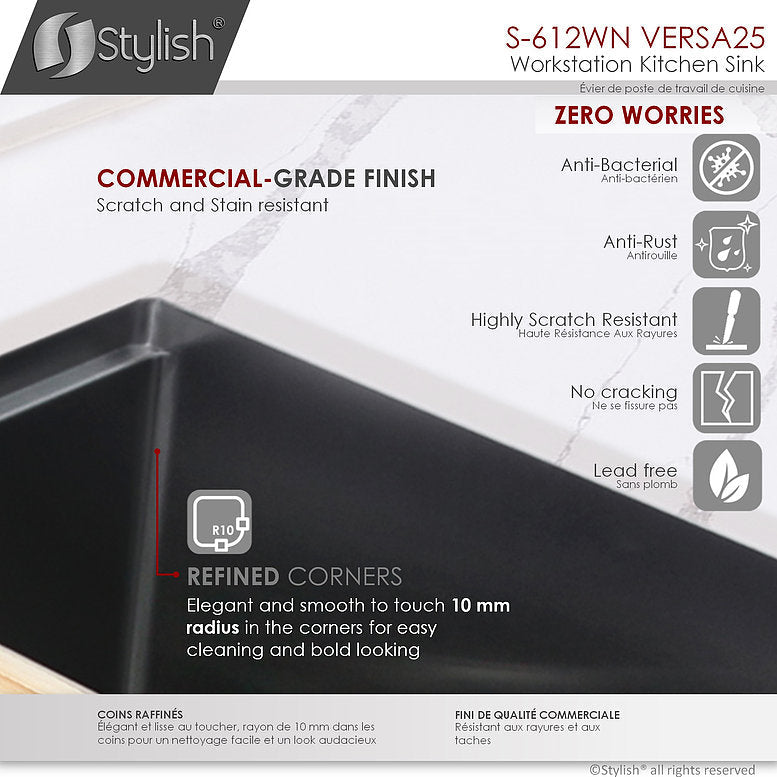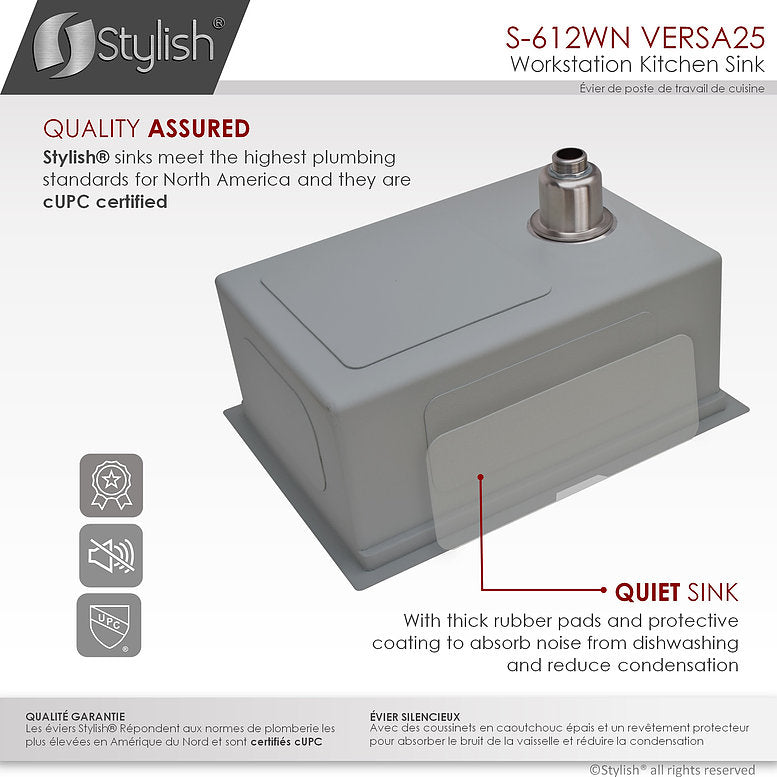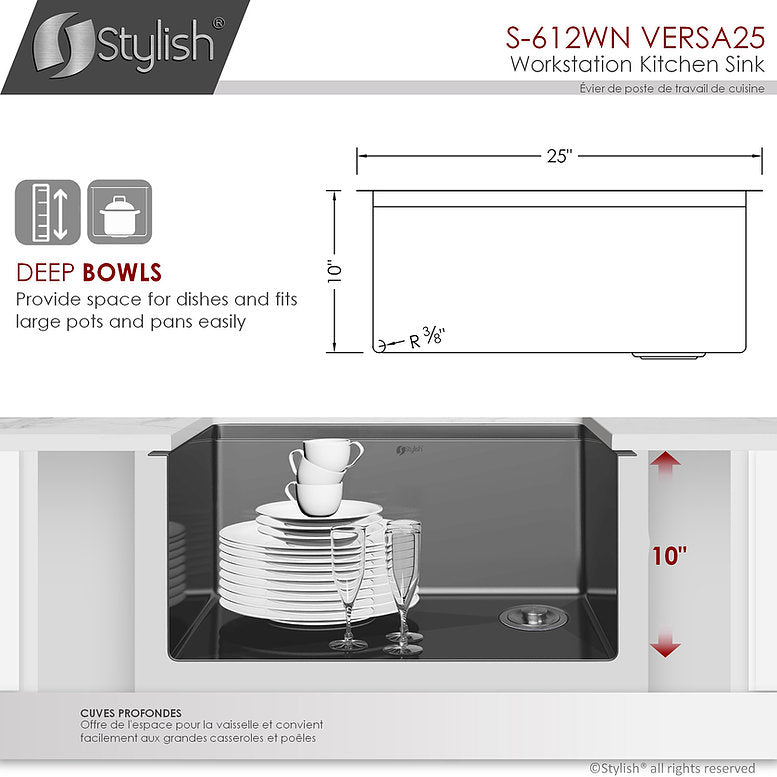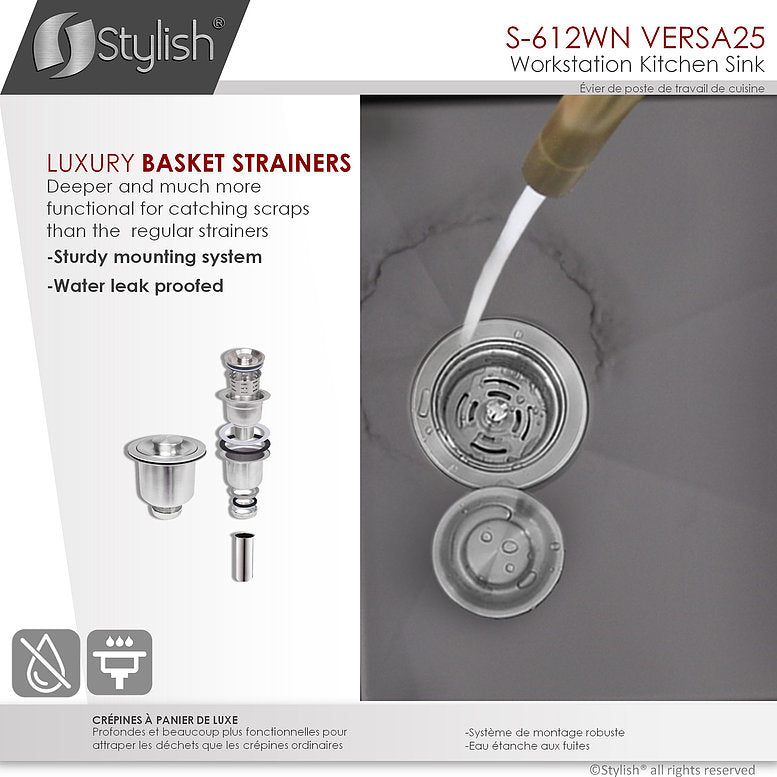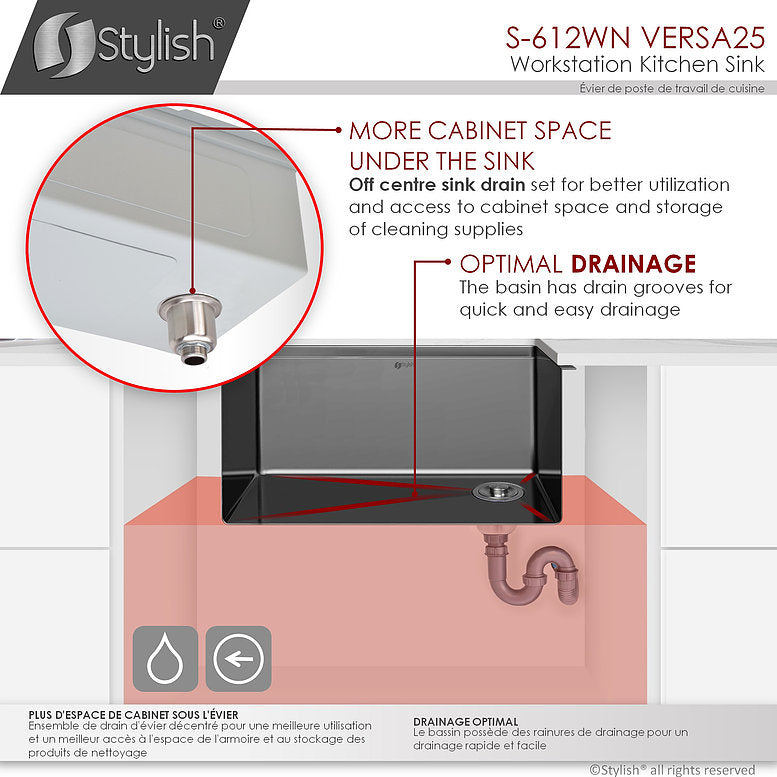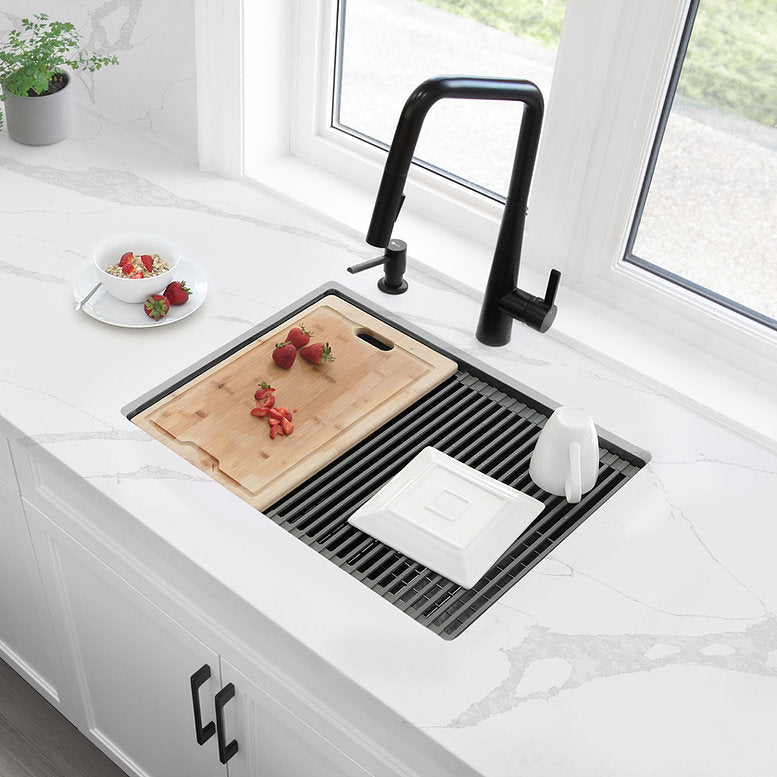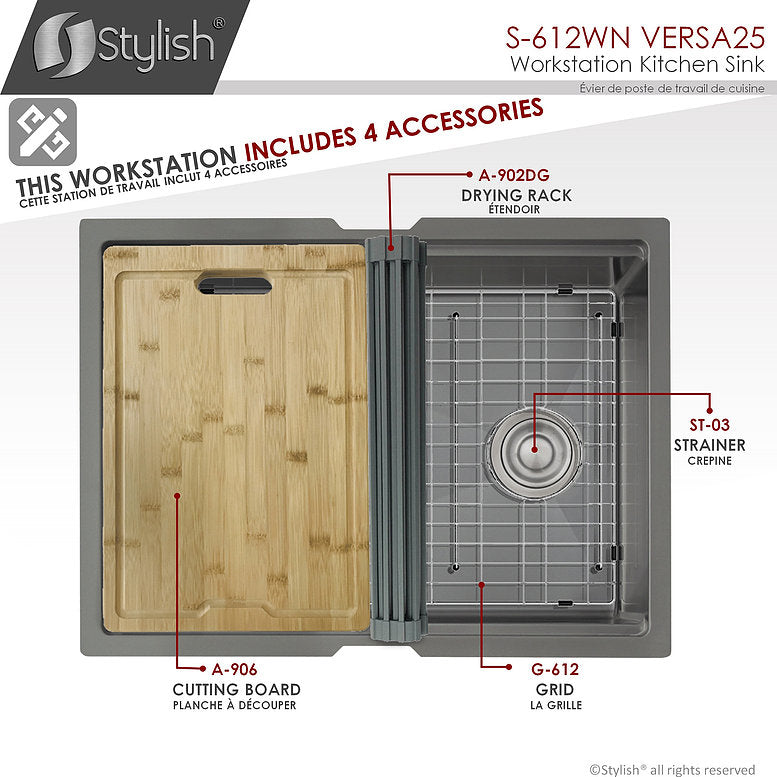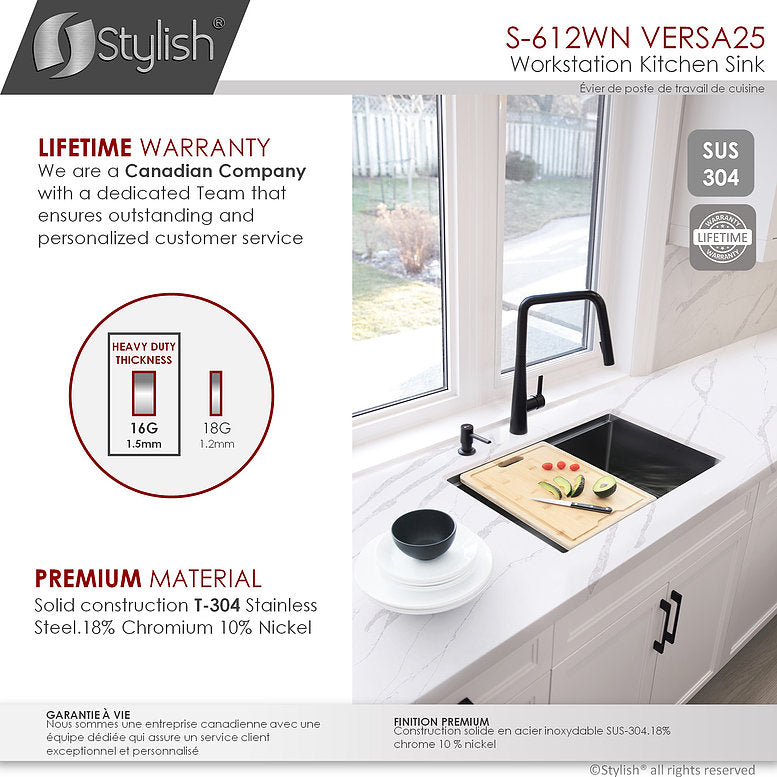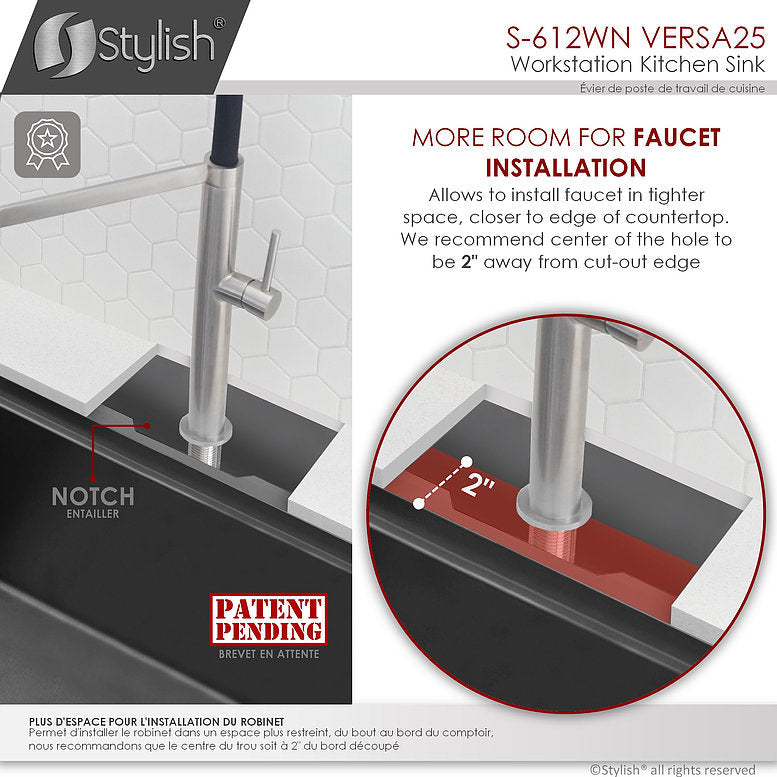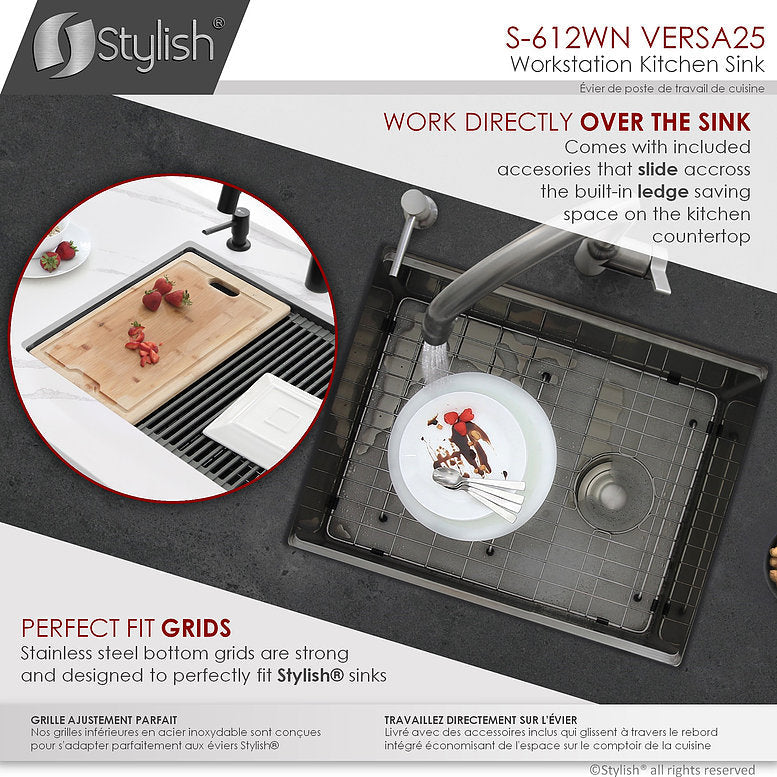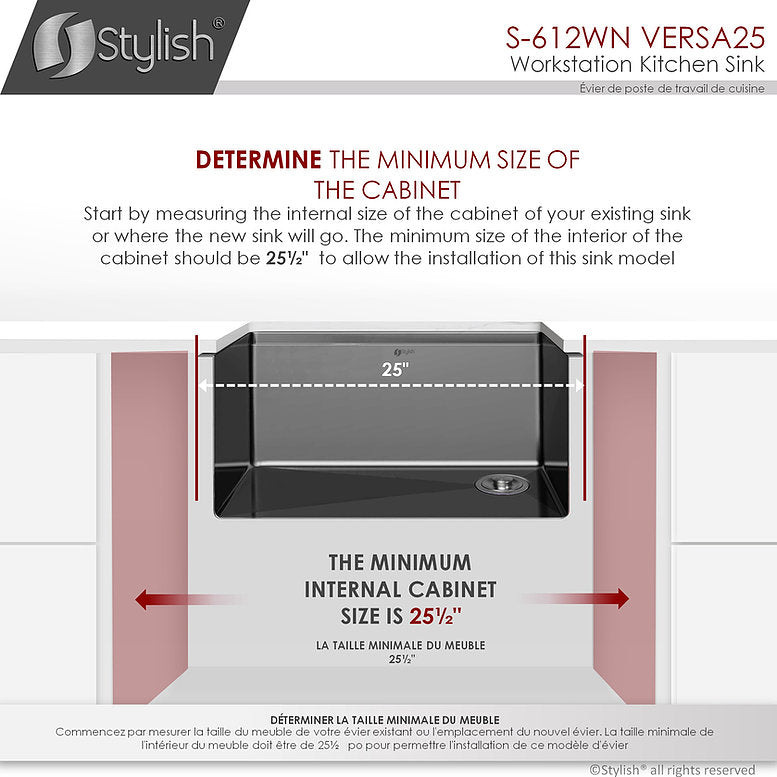 SKU# S-612WN
Adding style and functionality to your kitchen has never been easier with the amazing kitchen sink workstation which includes one 25"x19" single bowl undermount stainless steel kitchen sink, one protective stainless steel bottom grid, one roll up drying rack, one perfect fit bamboo cutting board. This workstation sink comes with the ledge on the longer sides of the sink. This ledge allows the kitchen sink accessories to perfectly fit making it a unique and functional experience. The undermount stainless steel kitchen sink features not only a sided set drain, but the drain is also set to the middle, this is a brilliant feature that truly allows maximum space under the kitchen cabinet and you can install the drain to the left or to the right. The Sink bottom is designed with small slope and grooves for efficient water drainage. Another great reason to have this workstation installed is the undermount soundproofing, sink is covered with thick pads on all sides, it is guaranteed to be silent while in use, additionally there is an undermount coating that will protect your kitchen cabinet from condensation. Unlike most competitors this sink features gently rounded corners all around to make cleaning as simple as wiping the surface with a damp cloth.
This workstation would not be completed without our luxury basket strainer. Also included, the basket strainer is larger and more efficient than regular strainers as it catches food scraps and debris to prevent the drain from getting clogged. For easy installation, all mounting hardware and installation instructions are provided.  Our stylish and functional single bowl undermount kitchen sink workstation is what your kitchen is missing. 
This Workstation is handcrafted and made with T304 stainless steel 16 Gauge which is the thickest  in the market and features Stylish FacilKlean technology that not only make this sink a modern graphite black color but also makes sink very easy to clean and highly scratch resistant, this dark color is perfect to hide water marks. 
This product is proudly designed and specified in Canada, also meets local plumbing codes, it is supported by one of the best warranties in the market with a professional customer care team that goes beyond to ensure full customer satisfaction.
Dimensions:
External Size: 25" L x 19" W x 10" D
Internal Size: 23" L x 17" W x 10" D
Min. External Cabinet Size: 27"
WORKSTATION SINK:

Included five items, the 25" single bowl undermount kitchen ledge sink, one protective stainless-steel bottom grid, one steel-silicone coated drying rack, one perfect fit bamboo cutting board and a luxury basket strainer. All you need to work in your kitchen.

REVERSIBLE INSTALLATION DESIGN:

With this reversible sink you can flip the sink around to have the drain on either the right or the left, whatever is convenient for your plumbing.

MORE ROOM FOR FAUCET INSTALLATION:

The notch in the flange makes it easier to install the faucet as it provides more room during the installation.

GRAPHITE BLACK:

Imagine your kitchen space with a beautiful black sink, it will be the focal point of your kitchen.

FACILKLEAN SURFACE TECHNOLOGY:

This technology makes sink highly scratch resistant and easy to clean; sink surface is fingerprint resistant and features a unique anti-bacterial technology that wards off microbes, do not worry about bacteria in your sink. This undermount kitchen sink is five to ten times more durable than the typical stainless steel surface finish, no lead, food grade and without adding any chemical ingredients.

QUIET SINK:

This quiet undermount single bowl kitchen sink workstation has heavy duty sound guard padding and undercoating to minimize noise. This padding is made of thick rubber pads and they are on all sides and bottom of the kitchen sink. Each sink is additionally treated with protective coating, which provides sound insulation against noise and thermal insulation against condensation.

PREMIUM MATERIAL:

Made of Premium SUS-304 stainless steel with 18% chromium and 10% nickel content which provides excellent strength and hardness. This single bowl kitchen sink workstation is made with scratch-resistant stainless steel. It won't stain, tarnish or rust over time. The brushed satin finish hides water spots and helps to maintain a uniform patina as the kitchen sink ages. This stainless steel undermount kitchen sink is also heat resistant and will not discolour from hot pans. It is easy-to-clean and resists bacteria. 

DEEP BASINS:

The basin in this kitchen sink workstation is rectangular and 10-in deep, offering a modern, linear style. The deep basin in the sink provides space for dishes and fits large pots and pans easily. The deep design of the basin also hides dirty dishes in the single bowl kitchen sink basin and under the countertop line.

LUXURY BASKET STRAINER:

This undermount single bowl kitchen sink workstation comes with a luxury stainless steel basket drain strainer, which is deeper and much more functional for catching scraps and food waste than the regular strainers. The basket strainer keeps food and debris form clogging the drainage.

OPTIMAL DRAINAGE:

Drain grooves in the bottom of the sink's basin add a stylish look and prevent pooling as water is directed towards the drain openings. FacilKlean water repelling coating and the X shape designed system will make the double bowl sink drain and dry quickly and effortlessly.  This sink has a standard 3.5" drain opening.

MORE SPACE FOR STORAGE:

This workstation features sided drain opening that is engineered for the best utilization of space under the kitchen cabinet.

PERFECT CORNERS:

All welds and corners are perfectly blended through an automated machine buffing system and carefully hand polished for a luxurious finish. This undermount single bowl kitchen sink workstation has elegant and smooth to touch 10mm radius in the corners for a bold look and at the same time add functionality allowing to clean the kitchen sink very easily.

BOTTOM GRIDS:

Sink includes the bottom grids to further protect your sink and make it more hygienic.

PERFECT FIT ACCESSORIES:

Complement the style and function of your sink workstation with our accessories, designed to perfectly fit your single undermount kitchen sink while offering advanced convenience.

GARBAGE DISPOSAL:

Stylish kitchen sinks come with a standard drain opening of 3.5" diameter that can fit any garbage disposal unit.

Stylish Versa25 25" x 19" Handmade...
S-612WN
Regular price
$475.28 USD
Regular price
$475.28 USD
$779.15 USD
Sale price
Unit price
per
Sale
Sold out